About the AM&STM
The Ashtabula Maritime & Surface Transportation Museum is housed in the original Ashtabula Lighthouse Keeper's House later the house that the U.S. Coast Guard Chief and his family lived in. This house was originally built for the Lightkeeper's family in 1871. An addition was built for the Assistant Keeper's family to live in 1898, making the house a duplex.  In 1991-1992 a $31,000 addition of approximately 40' X 50' was built onto the rear of the original 1871 Light Keeper's home.
2020 marks the 36th Anniversary of the founding of our museum on June 2, 1984. The original museum name at that time was: The Great Lakes Marine & Coast Guard Memorial Museum.
Today we have several outside displays in our front and back yards plus a portion of the leg of the original Ashtabula Hulett Iron Ore unloader in Point Park which is across the street from the museum that overlooks the industrial harbor. In our parking lot sits the First Electrically Welded Steel Hull Ship in the World, which was built in Ashtabula Harbor in 1914.
Inside the museum, we have over 25,000 maritime, railroad, Hulett, Titanic, Naval and Coast Guard historic items on display. Attached to the rear of the Keepers House is a full-size Pilot House (Wheelhouse) from the Great Lakes Steamer the "Thomas Walters" that is filled with actual and original sailing equipment.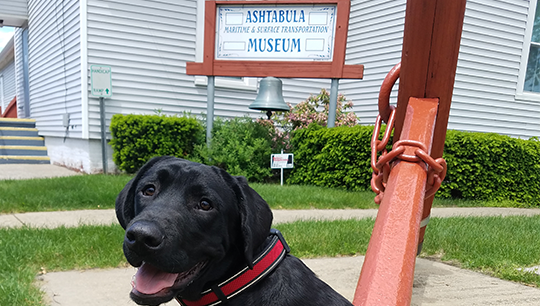 Contact Us
Ashtabula Maritime and Surface
Transporation Museum
P.O. Box 1546
Ashtabula, OH 44004
440-964-6847
Email us: info@ashtabulamaritime.org